Piston Ring Fit For BENZ OM352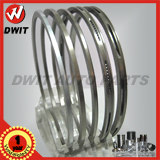 Piston Ring Fit For BENZ OM352
MERCEDES- BENZ PISTON RING OM352 -- STD & 0.50 in stock!!!

Engine Type

Cyl.No.

Piston Ring

Part NO.

Position

Size (mm) D¡ÁB¡ÁT

Material

Surface Treatment

Ring Type
1964-On5675cc Eng.126 H.P.OM352 1964-On3780cc Eng.60,80,100 H.P.

6

1

97¡Á3.0

DCI

Cr1 Tin

T-B

000 45 NO(MAHLE)

2

97¡Á3.0

ACI

¡¡

M

80 00109 1 0 000(KS)

3

97¡Á3.0

ACI

¡¡

NM

06-174300-70(GOETZE)

O

97¡Á5.5

ACI

Cr1

DSF

06-178800-10(GOETZE)

O

97¡Á5.5

ACI

¡¡

D

004 51 NO

OM314,OM352 Turbo

6

1

97¡Á2.5

DCI

Mo P

T-B

022 50 V0(MAHLE)

2

97¡Á2.5

ACI

Mo P

IW

80 00191 1 1 000(KS)

O

97¡Á4.0

ACI

Cr1 P

DSF

¡¡
piston ring compatible with Mercedes-Benz series

1.Dia from 87.00mm--130.00mm

2.Engine Type: OM352, OM355, OM422,OM443,OM401,OM314 etc.

Remark:
1) For European& American, Korean & Japanese etc. Engines
2)Good quality
3)Competitive price
4)Secure service
5)products: Piston, piston ring, engine bearing, cylinder liner.
Desire our cooperation!
We have produced many types of piston rings compatible with Mercedes-Benz series with good quality and competitive price .